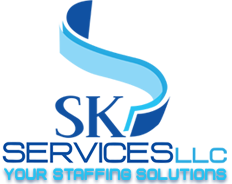 WE STRIVE FOR EXCELLENCE BY FOCUSING ON ONE ON ONE RECRUITING, TO GIVE OUR CLIENTS BETTER QUALIFIED CANDIDATES.
SK SERVICES OFFERS 24/7 ON CALL SERVICE TO ALL OUR CLIENTS TO GUARANTEE THE BEST CUSTOMER SERVICE IN THE QUICKEST WAY POSSIBLE.
WE WILL HAVE A REPRESENATIVE ON SITE TO CONDUCT ANY AND ALL WORKERS COMPENSATION CLAIMS AND TO CONDUCT OUR 12 PANEL DRUG SCREEN AT ANYTIME.
WE CONDUCT FULL EMPLOYEE BACKGROUND CHECKS, REFERENCE CHECKS, AS WELL AS DEGREE AND CERTIFICATION VALIDATION.
WE WORK ONE ON ONE WITH APPLICANTS, PROVIDING GUIDANCE AND COUNSELING AS NEEDED, TO ENSURE OUR CLIENTS RECEIVE THE BEST POSSIBLE INDIVIDUAL FOR THEIR TEAM.
SK SERVICES PARTICIPATES WITH LOCAL COMMUNITY EFFORTS.
WE WORK WITH THE SCHOOL SYSTEMS TO SUPPORT OUR FUTURE WORKFORCE.
SK SERVICES OFFERS WORKSHOPS FOR EMPLOYEES, CLIENTS, AND THE COMMUNITY AT NO CHARGE.

WHAT MAKES US DIFFERENT?

AT SK SERVICES WE UNDERSTAND, THAT EVERY CLIENT HAS A DIFFERENT NEED AND SK SERVICES HAS UNMATCHED FLEXIBLITY AND CONTINOUSLY EVOLVES TO MEET THE SPECIFIC NEED OF EVERY CLIENT.
OSHA SAFETY TRAINING: WE CONDUCT ALL SAFETY TRAINING IN HOUSE AND WILL MIRROR ANY SAFETY TRAINING THAT OUR CLIENT REQUIRES.
SK SERVICES OFFERS BENEFTIS TO ALL EMPLOYEES AT NO COST TO YOU INCLUDING: DIRECT DEPOSIT, MEDICAL, DENTAL, VISION, AND LIFE INSURANCE.
COMPREHENSIVE TESTING
LOWER RATES TO SAVE YOU MONEY.
TRAINED RECRUTERS THAT LISTEN AND DELIVER WHAT THE CLIENT NEEDS.
PAYROLL LIABILITIES.
EEOC COVERAGE.
E-VERIFY.
ADVERTISEMENT FOR POTENTIAL JOB OPENINGS.
ALL OF THIS AND MUCH MORE TO ENSURE A PERFECT FIT!!!